Refreshing a technology solution to deliver gas across the country
The closure of the 2G network led us to help Kleenheat rethink, redesign and rebuild an efficient technology platform for their gas delivery fleet.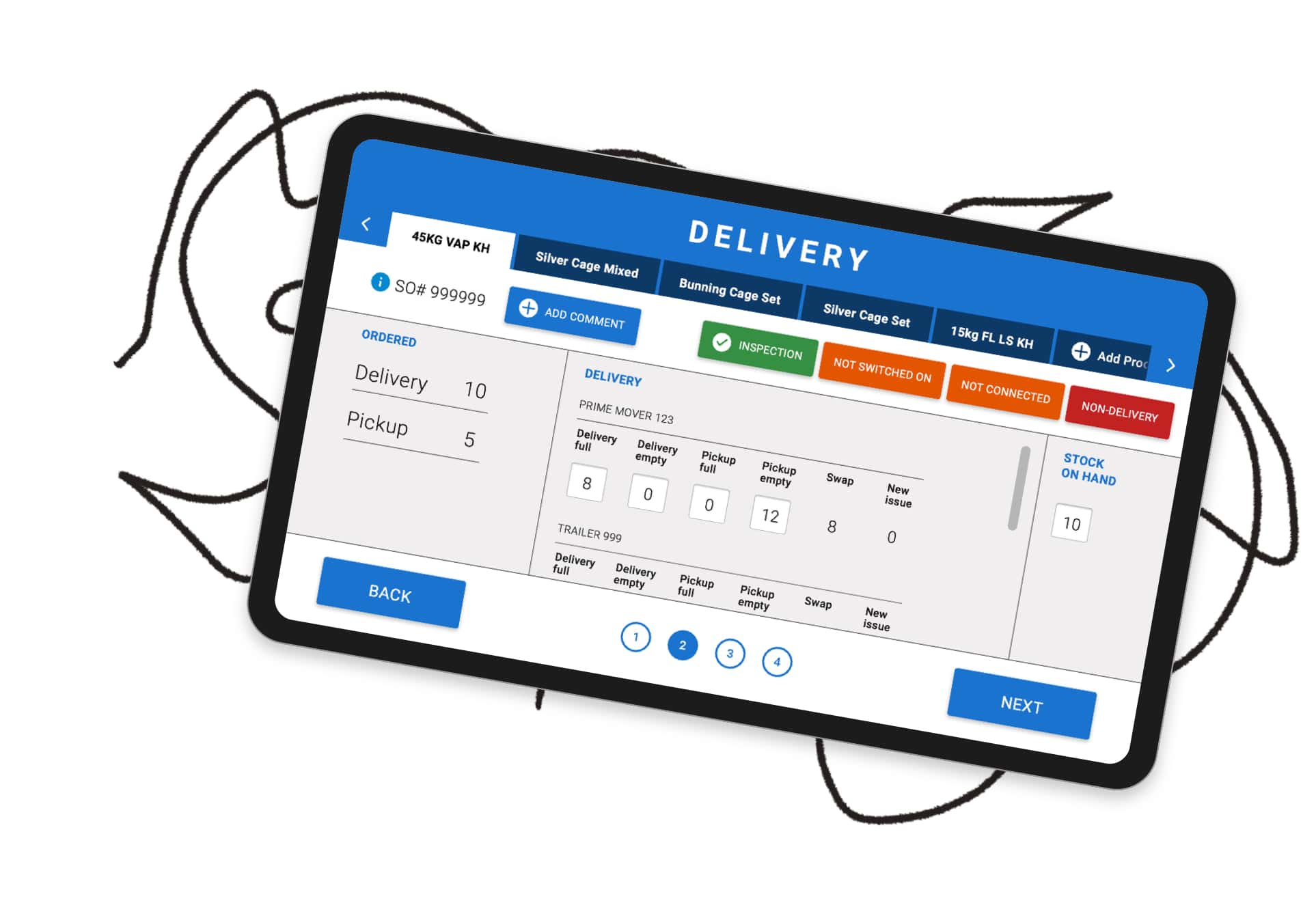 Challenge
Kleenheat's bulk delivery vehicles are equipped with devices that provide business critical services. These systems operated on 2G, but with the impending network closure, they needed urgent help upgrading their system.
Insight
In addition to the necessary technology upgrades, we also decided it was worth redesigning the user experience and engaging delivery drivers in that process.
Solution
Working in collaboration with Adapptor, we designed and delivered an interlinked software and hardware system which runs on 4G and provides a more nimble user experience for managers and delivery drivers.
Problem Solving
Kleenheat operates across two states, delivering gas to an extensive client base of businesses and residential homes. An organisation this expansive requires innovative and up-to-date technology to operate.
Kleenheat's bulk delivery vehicles are equipped with technology systems that update drivers on the details of their next job and allow them to send vehicle maintenance and cargo monitoring reports back to central offices via a tablet, as well as hardware that prints job documents during their trip. These systems operated on 2G, but with the closure of the network imminent the Kleenheat team approached us in need of an urgent solution.
An opportunity became clear: Not only could we work collaboratively to refresh and streamline the Kleenheat technology (both software and hardware) onto the current wireless mobile network, but we could take the chance to rethink and redesign the drivers' user experience at the same time.
With a matter of weeks to design and deliver a solution, we needed to move faster than ever. Together with Kleenheat we assembled a large group of internal management and IT teams, Kleenheat vehicle drivers and Hatchd user experience specialists, as well as technologists from our sister company Adapptor to carry out a collaborative experience design process which would combine insights from this vast group of stakeholders.
After an investigation into the bulk delivery's current back end system, our in-depth design thinking workshop helped us gather a broad range of insights and challenges from different domains of the business, which then became defined as ideas and opportunities. We mapped out the current user journey, and captured tangible, first-hand reports of how staff interacted with the current technology, what they expected it to be capable of, and what they did and didn't like about it.
Solution Design
With the foundations of our collaborative thinking established, we began to create low fidelity wireframes to lay out a new user journey, featuring an app and modern hardware that would work symbiotically with Kleenheat's backend data system.
We knew that certain safety requirements needed to be in place in any new solution, due to the nature of the delivery vehicles' cargo: both in terms of software ('fit to drive' declarations need to be completed before a driver can commence a trip), and hardware (tablets need robust casing to contain the small possibility of any sparks or malfunctions which could cause an explosion). Drivers must also be able to print a Dangerous Goods Certificate for every trip, so whatever we designed had to work with the in-cab printers.
Our UI creative design was restricted to a carefully chosen colour suite to allow drivers to have good app visibility in different conditions on the road: long haul journeys, bright sunlight, night time and so on. Feedback from drivers also told us that a simple layout was of utmost importance - bigger buttons and more spacing were vital for easy operation by drivers with large hands or wearing gloves.
The Hatchd and Adapptor team helped with a recommendation for an up-to-date 'intrinsically safe' Android tablet that could replace Kleenheat's current in-cab tablets - which were nearing end of life - and met the rating requirement to allow them to be taken out of the vehicle, making them much more useful for drivers on the road. Our user experience experts refined their lo-fi wireframes into functional and clickable prototypes, complete with our proposed interface design, and tested them with drivers, using their feedback to carry out further refinements.
Simultaneously app development began in earnest to help us meet the extra tight deadline. Kleenheat's technical services department exposed areas of their back end system with a JSON REST API that allows the application to function with it, while we used Google's app development framework in the build. The system uses a small Raspberry Pi on board each vehicle, which runs server code we wrote to connect the dashboard printer, a flow meter which measures the volume of gas in each tank, and the app. Rounds of comprehensive in-field testing and fixing followed before delivery.
"Under pressing deadlines, Hatchd quickly oriented themselves with the complex challenge and partnered with Kleenheat in a very positive, collaborative manner to deliver an intuitive, streamlined and robust solution, which may be leveraged for future capabilities."
Anton Vojkovic, Kleenheat (WesCEF)
Kleenheat's interlinked bulk delivery solution now sees an app, backend database, in-vehicle server, flowmeter and tablet all functioning in a seamless and connected ecosystem, joining our forward-thinking technologies with those already in use - connecting the new with the old.
This collaborative technology design has provided a much more nimble user experience for both administrators and drivers, with increased data visibility for central office, instant reporting on vehicle configuration and maintenance, and a simple, modern and accessible interface.
Initial feedback from Kleenheat was that although projects like this could take years to scope and create, they were impressed that we delivered a solution within an unusually small timeframe - all the while balancing business, administration and driver requirements.
 "We were thoroughly impressed with how quickly Hatchd understood what our drivers and back-office needed and the emphasis they placed on user experience."
Guy Bowden, Kleenheat
The solution design process also helped bring to attention other business friction points that could be simplified, which lead to further systems collaboration with Kleenheat.